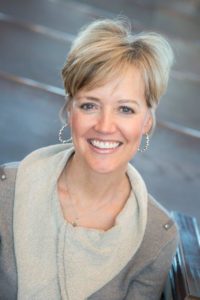 In the summer of 2001, I had recently been diagnosed with a brain tumor. While attending a family-organized fundraiser for diabetes, I was struck by the thought that (to my knowledge) no one in the Twin Cities was doing anything to raise awareness and funds for brain tumor research. With that thought, and after enlisting the help of my sister and three college girlfriends, Humor to Fight the Tumor (HTFT) was born.
Please don't misunderstand me, there is nothing funny about a brain tumor. But I believe laughter is the best medicine. By weaving laughter into the event, my hope was not only to raise funds and awareness, but to create an uplifting evening that would send the message that, whether you have cancer or not, every day is a gift and blessings can come out of adversity.
As we were brainstorming ideas for the event, I knew of three other people who had been affected by brain tumors. I figured that a video featuring our stories could highlight the fears, struggles, humor and even joy experienced by a life-changing diagnosis like a brain tumor. In addition, I thought that if each of us was willing to invite our friends and family we might just pull off an "official" fundraising event. 
While every brain tumor journey is unique, I feel incredibly blessed to call myself a survivor. Since the initial diagnosis of my non-curable, recurring brain tumor I have experienced five recurrences, but continue to fight and am extremely grateful for the advances made in treatment since 2001–hence the reason funds are so critical.
Temodar, an oral chemotherapy I have taken twice during two different recurrences, was just in a clinical trial phase back in 2001. Besides the oral chemotherapy, I have had three surgeries and recently completed radiation. I will begin a different chemotherapy regime now that radiation is complete. While I wouldn't choose this disease to be a part of my life, I can honestly say the blessings that have come from my diagnosis far outweigh the negatives. My faith has grown as a result and my trust in God's ultimate plan is what gives me hope and keeps me fighting.
Since the inaugural gala in 2004, Humor to Fight the Tumor has aspired to be a God honoring event. To my shock and amazement, 450 people attended the initial gala. We maxed out the event space and raised over $90,000, which was given to support the research efforts of the American Brain Tumor Association (ABTA). In the first eleven years, HTFT raised over $2.9 million to support the important work of the ABTA. In subsequent years, HTFT operated as a 501c3 non-profit organization and forged partnerships with two additional renowned institutions. Since 2015, HTFT has partnered with the ABTA, the University of Minnesota, and Mayo Clinic.
Since 2004, the event has steadily grown in size and our organizing committee has doubled. I am extremely grateful to the dedicated all-volunteer committee that gives so generously of their time and talents year after year. Our committee is comprised largely of brain tumor patients and caregivers to a loved one with a brain tumor. I believe it is the passion of the committee and our desire to support a cause so dear to our hearts that has driven the success we've achieved so far.
Yet, proud as I am of the success we've had, I have to say that the bottom-line figure we raise at each gala is not my primary goal. My desire is to continue to deepen a community that is joined together by a difficult diagnosis, with the hope that no one will feel alone on this journey. Without a doubt, leading HTFT has brought more meaning to my life than I could have ever imagined. I cherish the friendships and relationships I have made along the way and have met some amazing people in the honorees we highlight each year.With our non-profit status we are able to direct funds to institutions closer to home as well as to the ABTA. I am eternally grateful to all of the people who have attended, supported, and donated to HTFT from its inception. Your support inspires hope. I look forward to what we will achieve in the years to come, as we join together each September to celebrate life. Thank you for reading!