2006 Humor to Fight the Tumor Event

The 3rd annual "Humor to Fight the Tumor" event took place on Friday, July 21st at the Sheraton Hotel in Bloomington. This year a subtle change was made to the name of the event by adding two words to the former "Humor for the Tumor" title. Though the change was subtle, the meaning has a big impact, as the goal of the event is to raise funds and awareness to aid in the fight against brain tumors.
The evening was again a huge success, providing the American Brain Tumor Association (ABTA) with over $114,000 in net funds to further its' research efforts. In addition, the event provided $12,000 to the Make A Wish Foundation, MN Chapter, to grant the wish of a child suffering from a brain tumor. Gabby Kaiser was the recipient of such a gift and graced the evening with a song she recorded.
The evening featured KARE 11 Meteorologist Belinda Jensen as the Master of Ceremonies and Bill Arnold from Triple Espresso as the comedic entertainment.
Honorees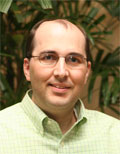 Matt Thurber
I was diagnosed in 1997 with a grade II-III anaplastic astrocytoma in the frontal lobe near my motor strip. For the first three years after surgery, radiation and chemotherapy, I experienced no loss of function. Having had six surgeries since 1997, however, I now need a wheelchair for mobility. I live by the philosophy that the only disability is a bad attitude, and always try to maintain my sense of humor. I credit my wife, Kristen, family, friends, and my doctors for providing me longevity in this battle, and my faith for sustaining me. I feel very blessed.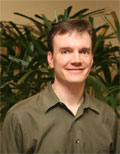 Daniel Hall
I went to see the doctor after having daily headaches. After telling the doctor that my mom died of a brain tumor, the doctor ordered a CAT-scan. It was September of 2003 when I was diagnosed with a 3 cm. brain tumor; it was an Acoustic Neuroma. The tumor was successfully removed, however, I lost the hearing in my right ear. The challenges continued for the next couple of years, dealing with many severe headaches. Looking back, I'm very thankful for my family enduring a difficult time and supporting me. Now, with severe headaches gone and less than 1% tumor recurrence, I'm a blessed survivor.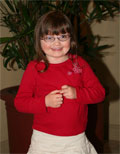 Brooke Sheehy
At the age of five, Brooke, a triplet was diagnosed with a craniopharyngioma brain tumor. For four months prior to her diagnosis, Brooke had complained of her eyes hurting at night and had difficulty getting to sleep. After experiencing some balance issues, a CAT scan revealed Brooke's brain tumor. A decade ago this tumor was considered inoperable and rarely curable by surgery. Thanks to advances in microsurgical techniques, Brooke has the chance to grow up and be a normal healthy child.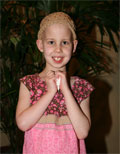 Rachel Woell
My name is Rachel Woell and I am 9 years old. Last year in January, my handwriting started to change and then I started having trouble keeping my balance. My Dad and Mom took me to the emergency room and the doctor took a CAT-scan of my head. The CAT-scan showed a mass in my brain. On February 24th, 2005 I had surgery to remove the tumor from the pineal region of my brain. The mass was diagnosed as a malignant germ cell tumor. I went through chemotherapy and radiation. I continue to get stronger everyday and I have few residual effects due to my treatments or surgery.
Photos
Presenter: Belinda Jensen

Committee Back Row (L-R) Kari Kilbride, Jenny Hardacre, Kristin Gabriel, Tammy Brooks, Lisa Gidlow, Joelle Syverson, Tracy Adams Bottom Row (L-R) Chrisie Weiss, Christine Ringham, Ann Lagorio, Beret Evenstad

Comedian : Bill Arnold