2009 Humor to Fight the Tumor Event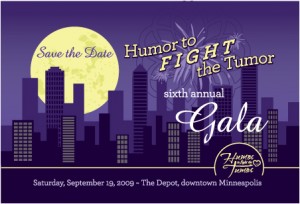 The 6th Annual Humor to Fight the Tumor was held Saturday, September 19th at The Depot in downtown Minneapolis with over 560 people in attendance. The gala raised over $166,000 for brain tumor research and patient services. Honorees included Kristen Jo Anderson, Randy Geller, Anna vanKoeverden, and Corey Miller.
The goal of Humor to Fight the Tumor has always been to move people through the power of hope and laughter to contribute to the important work of the ABTA. By sharing stories of those affected by brain tumors – sometimes heartbreaking, always uplifting – we shine a light on the devastating effects of a disease that attacks the very centers of movement, thought, and emotion. That light kindles hope, hope fuels generosity, and generosity paves the way for new treatments.
Event Details:
Hosted by Belinda Jensen, KARE11 Chief Meteorologist and Co-Host of KARE11 Saturday
Guest Speakers included: Elizabeth Wilson, Executive Director of the American Brain Tumor Association and Dr. Richard Peterson, M.D. The Minneapolis Clinic of Neurology
Entertainment from Comedian Dave Anderson
Honorees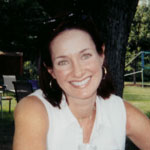 Kristen Jo Anderson (November 6, 1961-April 20,2007)
Krissy grew up in the Minneapolis area, graduated from Edina High School and attended the University of MN and Questa College before graduating from San Diego State. Krissy was diagnosed in the Spring of 2004 with a grade 4 glioblastoma multiforme (GBM). The tumor was removed at the University of California San Francisco in May, followed by aggressive treatment with radiation and chemotherapy. Subsequent surgeries at UCSF were performed in October of 2004 and again in 2005.
Through the strains of surgery, recovery, and ongoing treatment Krissy remained strong. With the support of her parents, family and friends she fought hard and always remained hopeful that a cure might be found. During her battle with cancer, over 85,000 individual visits were made to her Caringbridge site (www.caringbridge.org/ca/kristenanderson) offering words of support, love, and encouragement. She also was a yoga instructor and was known for her great sense of humor.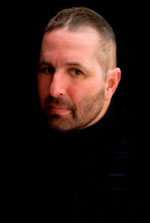 Randy Geller (age 44)
My brain tumor changed my life. On November 4, 2007, I ran the New York Marathon. It was done in memory of my dad, Ron, who had recently passed away from lung cancer. After having many headaches, on January 8th, 2008, I had an MRI at the Mayo Clinic. The next day I learned glioblastoma had entered my brain. On January 14, 2008, 95% of the tumor was removed.
At the University of Michigan, I was taught economics. At Columbia University, I was taught accounting and finance. At Duke University, many, including Dr. Jim Vredenburgh and Dr. Richard Peterson (Twin Cities) as well as numerous folks at Hubert H Humphrey Cancer Center, including Heather Penning, combined with a wonderfully large number of Caring-Bridge Guestbook writers, have taught me about life. It is a "journey" versus a "destination." Mathematically and intuitively, as age increases, the speed of time passing by also increases. My loving and caring family as well as current, past, and new friends are what keep me going on this "Hope, Faith, Science & Love's Peaceful Journey."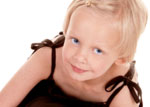 Ana vanKoeverden (age 4)
In October 2008, at age 3, Ana was diagnosed with an inoperable pilocytic astrocytoma in her brainstem. Since that time, she has been tenaciously fighting cancer with weekly chemotherapy treatments that are planned to continue through January 2010. Ana's tumor seems to be responding to the treatments. She has withstood the 5-hour infusions with irrepressible spunk and given us a new understanding of the word resilient. Not uncommon to those undergoing chemo, Ana has endured fevers, neutropenia, distal neuropathies and foot drop. Despite this, she has maintained her spirited nature that she has had since the day she was born. Without a doubt, this attitude has given her strength to fight this battle with fierce intensity and unwilling retreat. Ana enjoys being with her pre-school buds, she loves to plunge into the pool, pedal her bike fervently down the road, and race tirelessly around the playground with her (sidekick) little sister Elsa. We are in awe of the power of prayer and of the wonderful people that God has put in our path to minister to us, carry us, and lead us through this journey.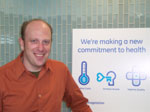 Corey Miller (age 34)
For Corey Miller, life began on August 8, 2003. On that date, before he'd even turned 29, a doctor diagnosed his previously undetected anaplastic astrocytoma brain tumor. Weeks after the resection, another doctor would tell Corey and his wife that remnants of the orange-sized mass removed from his left frontal lobe would take his life within roughly three to five years. Corey's thankful for his wife, his parents, his brothers and his children for giving him the strength and determination that brought him here, six years since his diagnosis, completely asymptomatic. He's also thankful for second opinions.
Corey, 34, lives in Woodbury with his wife, Rebekah, and two daughters, Hathaway (5) and Delaney (3). They are, collectively, his world. Born in Chicago, he also confesses to being a die-hard White Sox fan. Please don't hold it against him. He now leads global public relations for several healthcare-related businesses of General Electric (GE).
Photos
2009 Humor to Fight the Tumor Committee members

Honoree Randy Geller with family and friends

Family of Honoree Kristin Anderson

Honoree Corey Miller and family

Honoree Anna vanKoeverden and parents

Guest Speakers Dr. Richard Peterson, M.D.