2012 Humor to Fight the Tumor Event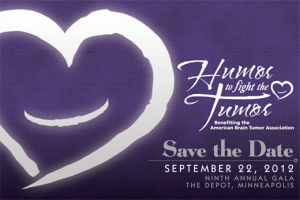 On Saturday, September 22, Humor to Fight the Tumor held its annual gala. It was a record setting night, both in terms of attendance and dollars raised for The American Brain Tumor Association (ABTA). Seven hundred people attended, and over $304,000 was raised to provide research and awareness tor the disease. To date we have raised over $1.4 million. The 9th Annual Gala featured remarks from Dr. Nadia Laack, a radiation oncologist from Mayo Clinic about the bright future of proton beam therapy in fight against brain tumors. Also part of the evening were live and silent auctions, comedy from John Bush, and stories of hope and determination by our four honorees: Jackie Carlson, Mia Gerold, Mike Nanne, Kyhaunn Woods.
Honorees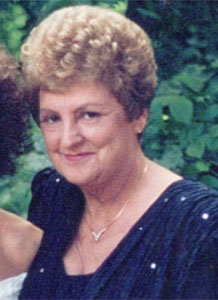 Jackie Carlson (11/22/36 - 3/28/95)
Jackie was diagnosed with a glioblastoma tumor in August of 1994 and went through surgery, radiation, and chemotherapy. She fought this for proximately eight months, before passing away in 1995.
She spent time in an orphanage while growing up, put herself through college after her children were in school, and made a beautiful life for her family. She was married for 42 years to Larry. She was tough on those she loved, but she loved with all her being. The only thing that equaled this love was the pride she held for each of her children.
Jackie worked in the medical field for all of her career, last of all being admitting supervisor at Unity Hospital in Fridley. She had the softest spot for all of the patients that were frightened and hurt, especially the very young and very old. She was even known to take her lunch hour to drive a few of them home because they didn't have a ride or couldn't afford transportation. She specifically decorated her office to cater to those frightened patients, having her husband build shelves for the vast clown collection that she started accumulating so that she could temporarily alleviate their stress and worry. Many physicians and coworkers added to this renowned clown collection over the years, and it grew substantially.
She was a woman that would fight for and completely support her children and husband, as well as anyone who really needed her, and this incredible kindness and warmth was well known. There is a piece of our mom in every one of her four children, 11 grandchildren, and 18 great-grandchildren. If there is a legacy to be left, it is her gift of family to all she knew.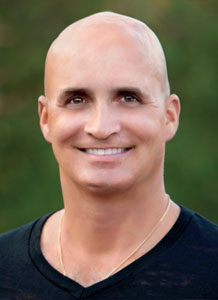 Michael Nanne (5/13/1964 - 9/21/2012)
Mike was born on May 13, 1964 in Edina, MN. Upon graduating from Edina High School, he went on to the University of MN where he earned a bachelor's degree in psychology as well as a D.D.S. from the School of Dentistry. However, that was not the original plan. During the summer of 1982, when he was just 18, Mike was involved in a tragic motorcycle accident where he was critically injured. He suffered a traumatic head injury that left him in a coma for a week and a sever leg injury that resulted in the loss of his right leg below the knee. His plans for playing hockey, and becoming a pilot for the Air Force Academy, were changed in an instant.
In February 2010, after suffering a seizure while attending a dental seminar, Mike was diagnosed with a glioblastoma. After three craniotomies, radiation, chemotherapy, and a clinical trial at Duke, Mike is currently receiving the DCVax here in the Cities. Mike feels great. His deep faith is unwavering, as is his positive attitude. He is fighting this cancer with the same tenacity he had when he dealt with his accident.
He is surrounded by the undying love and support of his amazing wife, Sheila, and four beautiful children, Megan (23), Shawn (22), Erin (19) and Lauren (18).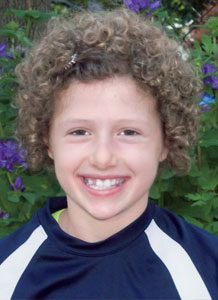 Mia Gerold (age 11)
After weeks of upper respiratory symptoms, antibiotics, and steroids, Mia couldn't shake the "spinnies" she was feeling in her head. So on April 26, 2010, she had an MRI. The next day, on her ninth birthday, we were told the devastating news. Our beautiful daughter had a brain stem tumor called Diffuse Intrinsic Pontine Glioma, DIPG. Because of its location, it was inoperable. There is only one known treatment to battle this monster and it is radiation. Mia underwent six weeks of radiation ending July 27, 2010. She made it through radiation with flying colors.
She mostly became nauseated and lost her appetite, she lost 20 lbs. and was quite tiny for some time. Her first post-radiation MRI showed the tumor to be "barely visible". It was the best possible outcome.
Mia's Motto is "I LOVE LIFE". She lives each day to the fullest, and at the end of each day she thanks God for all that is given to her. She has many friends she loves and a dog, Dixie, that she believes was handpicked for her – a divine gift, you might say. Mia enjoys singing, dancing, climbing trees, playing in the dirt, going to church, reading, and is a fierce fast-pitch softball player.
Mia lives with her Mom, Sandy, her Dad, Ted and brother, Eddie. She truly brings us joy every day and we know we are blessed beyond our wildest dreams.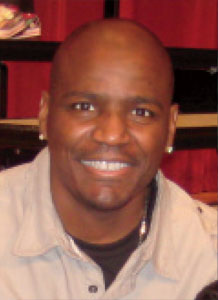 Kyhaunn Woods (5/25/1973 - 10/9/2012)
On Christmas Eve, 2011, while on vacation, Kyhaunn was diagnosed in Boulder, CO, with glioblastoma multiforme in his left frontal lobe and bifurcating into his right frontal lobe. It was literally impossible to wake Kyhaunn up and he could not answer very simple questions. Kyhaunn was taken to the ER, and that is when his life was changed forever.
After a week in Boulder Community Hospital, Kyhaunn and family were flown to Mayo Clinic, where Kyhaunn underwent a brain biopsy to confirm his diagnosis. The neurosurgeons determined that Kyhaunn was not a good candidate to have his tumor resected, due to it being in both hemispheres of his brain. Since diagnosis, Kyhaunn has undergone seven weeks of radiation, monthly chemotherapy, and intravenous Avastin treatments. Kyhaunn's latest MRI showed the tumor was stable, no new progression of the tumor and necrosis (dead cells) within the tumor.
Kyhuann is a strength and conditioning coach/fitness trainer, and has touched the lives of so many of the athletes he has trained with his strong faith, positive attitude, and sense of humor. Kyhaunn is the ultimate family guy with his wife, Andie, and their three young children, Maxwell (age 7), Myles (age 5) and Amari (age 2). Kyhuann's incredible faith and amazing support system keep pushing him forward through this journey. Our slogan at home is "Game On Cancer"…we will never stop fighting the good fight. God has us in His hands and He will carry us through this journey to victory.
Photos
Family of honoree Jackie Carlson

Family of honoree Mike Nanne

Honoree Mia Gerold and Family

Family of honoree Kyhaunn Woods