2013 Humor to Fight the Tumor Event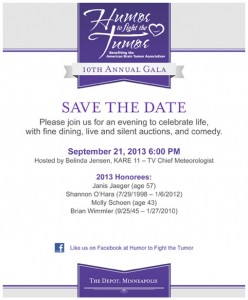 On Saturday, September 21, Humor to Fight the Tumor held its 10th Anniversary gala to raise funds and awareness for The American Brain Tumor Association (ABTA). Over 600 people attended, and over $260,000 was raised to provide research and awareness tor the disease. To date we have raised over $1.7 million. The 10th Annual Gala featured remarks from Kristin Gray, a Humor to Fight the Tumor Board Member, highlighting all the advances in brain tumor research in the past ten years. Also part of the evening were live and silent auctions, comedy from Jeff Allen, and stories of hope and determination by our four honorees: Janis Jaeger, Shannon O'Hara, Molly Schoen, and Brian Wimmler.
Honorees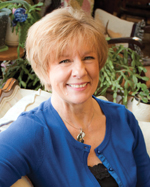 Janis Jaeger (age 57)
An x-ray technologist with the majority of her career spent doing mammograms, Janis Jaeger has been an advocate for prevention, early detection, and treatment of cancer. The inspiration from her patients has helped guide Janis in her own journey with cancer.
After having a seizure one night Janis immediately saw her doctor and he ordered an MRI. On February 11, 2011 a week after receiving the results of the MRI Janis had surgery at Mayo Clinic and was diagnosed with an Anaplastic Astrocytoma. Janis refers to her time at Mayo while receiving radiation and chemo as her 'cancercation!' She wanted a vacation, but had to take cancer along.
Janis lives in Devils Lake, North Dakota with her husband Lyle. Their children, Christopher and Emily live near them. She is back to work. Janis enjoys spending time with family and friends, and spending time gardening. Her diagnosis of cancer has given her additional wisdom in working with her patients. Janis continues to approach life with an optimistic outlook.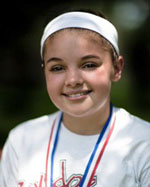 Shannon O'Hara (7/29/1998 – 1/6/2012)
At the age of 12, Shannon was diagnosed on April 15, 2011 with a brainstem glioma tumor (DIPG). This was a terminal diagnosis as this type of tumor is inoperable and has no cure. She received her radiation and chemotherapy treatments in her hometown of Rochester, MN at the Mayo Clinic. When her tumor recurred in November, 2011, she chose to take part in a clinical trial at St. Jude Children's Research Hospital in Memphis, TN. She and her family stayed in Memphis until Shannon's decline forced them to return home so family and friends could say goodbye. Shannon fought her nine month battle with determination and grace until passing away at age 13 on January 6, 2012. Shannon lived her life with a positive attitude, always working hard for what she wanted, and being a good friend and teammate. During a TV interview after her diagnosis, she expressed a desire to make a difference in this world. Her quote, "I want my life to mean something to someone, somewhere..." is what compelled her family to start a foundation in her memory and to write a book, Determined to Matter. Shannon is survived by her mother, Jen, her father, Dan, and her younger sister Erin (12). Her family and friends carry on in the spirit of Shannon the Cannon.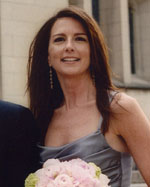 Molly Schoen (age 43)
Molly graduated from The College of St. Catherine with a BA in English in 1992 and obtained a second bachelor's degree in nursing from St. Kate's in 2009. She worked as a registered nurse on the med/surge unit at Fairview Southdale prior to settling into a career as an oncology nurse with MN Oncology.
Molly was diagnosed with GBM in early April 2012. With no previous symptoms, Molly experienced a random, one-time headache while driving home from work. Later that evening, an ER visit and subsequent CT scan showed a baseball-sized tumor in her right temporal lobe. After two craniotomies, Molly completed radiation and a year of concurrent chemotherapy and biotherapy. Her scans to date are clear. Molly attributes her current state of well-being to successful surgeries, tumor location, what she calls a "blue chip" healthcare team, and a whole lot of luck. She also feels very strongly that she would not have come as far as she has without having an "A-squad" of quality people in her life who know what it is to support, nurture and love.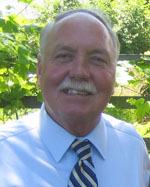 Brian Wimmler (9/25/45 – 1/27/2010)
On July 4th, 2009 Brian and wife Sandy were visiting their eldest daughter for the holiday. He had a terrible headache, was tired, no appetite and did not feel like socializing. On July 5th, his daughter found him sitting on the floor explaining he could not put on his socks or stand up. They immediately drove to St. Mary's Hospital in Madison, WI. A CAT scan showed a large mass on his temporal lobe. A biopsy revealed a gliobastoma. Due to the size and location, he was given three to twelve months to live. Brian courageously told the surgeons to do whatever they had to do to give him more time. Some of the mass was removed, but a significant amount remained. Radiation and physical therapy ensued.
Even as Brian lost his physical independence, his personality never faltered. He kept his sense of humor, remained determined and positive, and fought with dignity. He was able to spend one more Thanksgiving and Christmas with his family before being admitted to hospice in January 2010. He passed away peacefully on a Wednesday, which for the last 15 years had been his day off.
Photos
Family of honoree Shannnon O'Hara

Honoree Janis Jaeger and Family

Honoree Molly Schoen and Family

Family of honoree Brian Wimmler