2017 Humor to Fight the Tumor Event Recap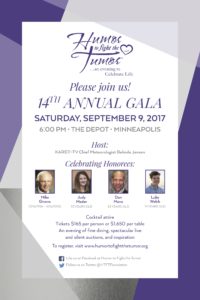 On Saturday, September 9, Humor to Fight the Tumor held its 14th annual gala. 680 people attended and over $400,000 was raised in net proceeds for brain tumor research and patient services. To date, Humor to Fight the Tumor has raised over $3.5 million dollars. The gala featured remarks from event founder Joelle Syverson and Dr. David Daniels, a pediatric neurosurgeon from Mayo Clinic. Parts of the evening included live and silent auctions, juggling and comedy by The Passing Zone, as well as a video showing stories of hope and determination provided by our four honorees: Mike Givens, Judy Mader, Dan Mans, and Luke Welch.
Honorees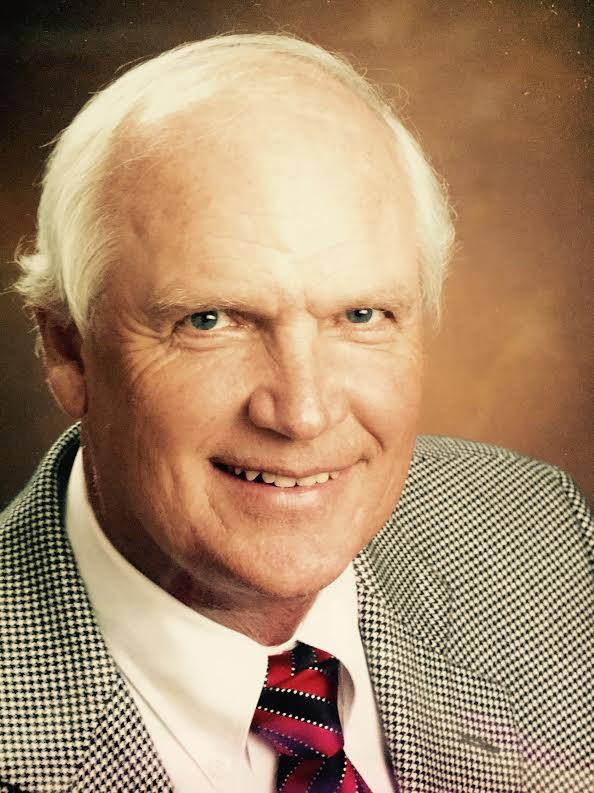 Mike Givens (7/16/1956 - 4/16/2015)
Mike was first diagnosed in 2005 with an Oligoastrocytoma Grade II Brain Tumor. He had surgery at the University of Minnesota and had many good years before the tumor returned in 2012. He had surgery at MD Anderson in Houston, TX and followed with Proton Radiation. The tumor returned for the third time in 2014 and we lost a very hard fought battle on April 16, 2015. Mike lived the American Dream in every sense of the phrase. He married his high school sweetheart, Linda, at the age of 19 and they purchased their first restaurant together at the age of 21. This started his long-standing career as a restaurateur in the Minneapolis area. Mike was recognized in the Twin Cities community for his relentless effort to help others and was recognized by Congress in 2013 with and Angel in Adoption award for raising $10 Million Dollars to benefit the foster care system. Mike and Linda were blessed with two children, Michael and Megan and the family feels very fortunate to have spent so many years with Mike at their cabin, golfing, fishing, traveling and mostly, spending quality time together.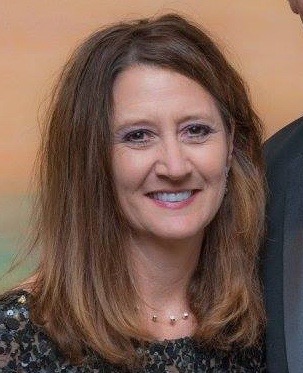 Judy Mader (53 Years Old)
In December 2011, I fell down the stairs and hit my head. Suspecting a concussion, I asked my father-in-law to take me to the ER in Shakopee two days later as my husband was in India on a work trip. After a CT scan and MRI, the doctors informed us they were sending me to Abbott Northwestern as they found a 'cyst' that was causing hydrocephalus. Surgery that evening took care of the hydrocephalus, but the next morning my husband arrived to hear the words - an in-operable brain tumor. A glial neoplasm in the pontine tectum are the words on my chart. Bad location (brainstem) is what I remember most clearly. My oncologist started frequent MRIs to watch for any growth. Unfortunately, the tumor did grow and it was recommended I undergo Proton Radiation Treatment early 2013. I spent two months in Bloomington Indiana attending the Indiana University Health Proton Therapy Center for 30+ treatments. I was fortunate. The treatment shrunk the tumor. I now have MRIs and checkups with Dr. John Trusheim every six months. My goal in 2011 was to live to see my son graduate from high school. Sam is now attending the University of Minnesota where I am able to take him out for lunch frequently. I am truly blessed.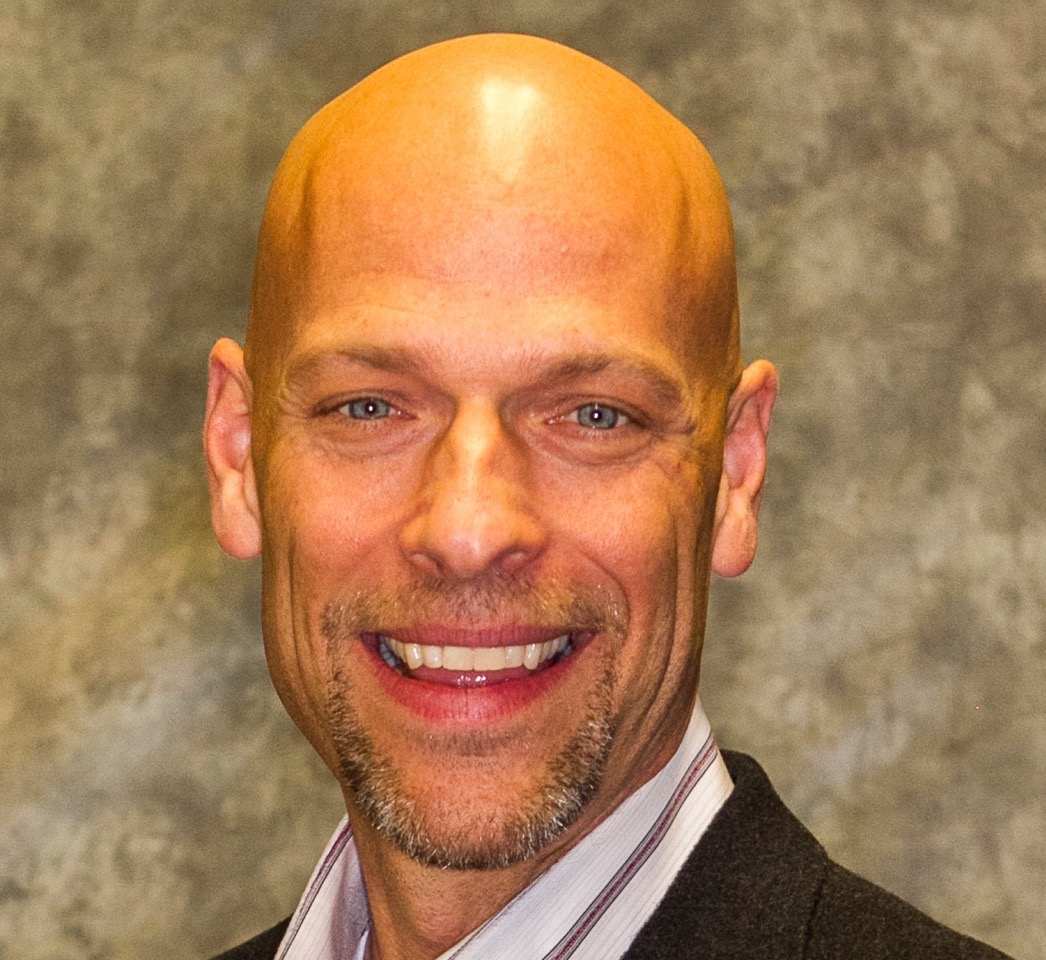 Dan Mans (52 Years Old)
At age 51, I was diagnosed with a non-curable, recurring brain tumor that the doctors said would lead to MRI scans and heavy seizure medication for the rest of my life. My tumor is deep in my brain that made surgery difficult, however, doctors were able to remove 30%. Any further resection would have greatly impaired my motor function. As an active person who likes to mountain bike and ski, maintaining motor function was very important to me. I began chemotherapy and radiation immediately after surgery. Unfortunately, I experienced a recurrence after 9 months and so I began another round of chemotherapy+ radiation therapy. I am grateful to know that more surgery is an option as well as additional therapies as I fight my tumor. Through this experience, I have found a profound calm that inspires and comforts me. The peace I have is so meaningful I would absolutely not trade it for full health. It is the greatest gift I have known and makes me realize how much God loves his dear people and longs to embrace us.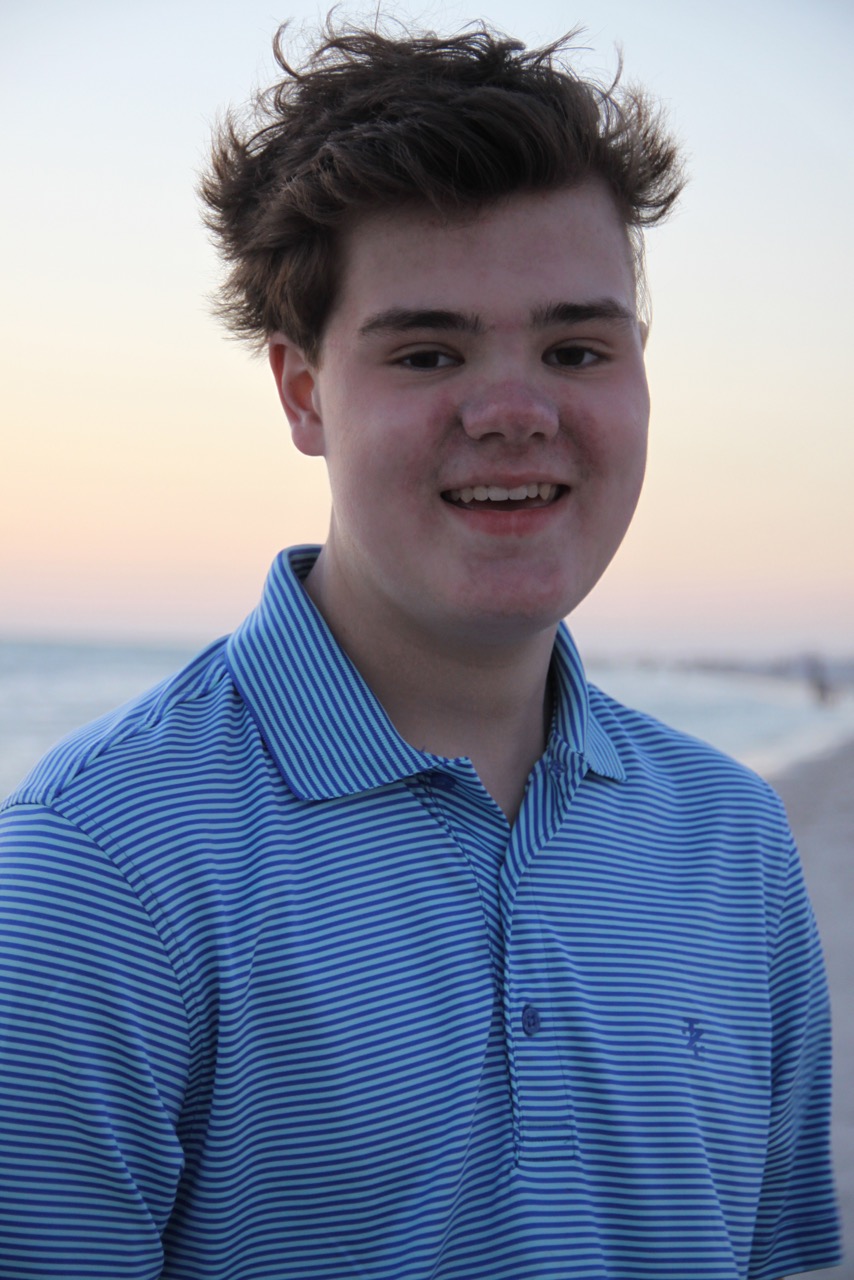 Luke Welch (14 Years Old)
At the age of 2-1/2 Luke was having increasingly more balance mishaps than a typical child his age would have. After a visit to Luke's pediatrician, and a trip to Children's Hospital in Minneapolis, an MRI revealed a ping pong size brain tumor on Luke's cerebellum. Luke underwent surgery to remove the tumor and a few days later, a diagnosis of cancer came back. Luke's tumor was classified as medulloblastoma. Luke endured daily radiation treatments for six weeks along with almost two years of chemotherapy treatments. Through it all Luke's smile and attitude for life were infectious. He battled back and beat cancer. Through the years Luke grew into an energetic young man; playing soccer, football, lacrosse and basketball. His love of the outdoors grew, he enjoyed fishing and hunting with his Dad and brother, Jack. Luke enjoyed a cancer free life for 11 years, until December of 2016 when Luke started experiences headaches that become unbearable. An MRI revealed a tumor in Luke's frontal lobe. Luke underwent surgery to remove the tumor that fortunately was completely removed. Later the word we prayed we'd never hear again, cancer. Luke has completed six weeks of daily radiation and is currently undergoing targeted chemotherapy treatment. Luke is a fighter and has great strength and courage. Luke's peaceful soul reminds us how important it is to live each day to its fullest.
Photos
Honoree Luke Welch and Family

Honoree Judy Mader and Family

Honoree Dan Mans and Family

Family of Honoree Mike Givens