Each year we update a photo wall of people affected by brain tumors, realizing this disease reaches far beyond the four individuals honored at our evening gala. We welcome photos of anyone affected by a brain tumor, both survivors and those who have passed away.
The following is the information that we need:
Person's full name
Tumor type  
Age of diagnosis
Current age or time since diagnosis
Photo of brain tumor patient.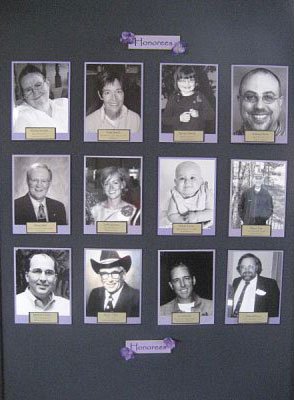 We make a formal copy of it in Black and White and then return the original to you.  The largest, or highest resolution picture that you have, is appreciated for the best quality.  We also prefer the photo to be of just the honoree vs. a part of a group photo.  If necessary, we can also crop the digital photo to include only the person as much as possible.
Please email the photo and information to kristen.thurber@gmail.com.
Or you can mail photo and information to:
Kristen Thurber
4712 Virginia Lane
Edina MN 55424
For questions regarding the Humor to Fight the Tumor Tribute Wall, please call Kristen at 952-920-0639 (home)